Tournaments are where teams from across the state get to see teams that they don't typically get to see, where they play roughly half of their matches on the season, and where they battle for the right to hoist the trophy at the end. Tournaments can really make or break teams. They also give a great opportunity for college coaches to see a multitude of top players compete against each other. 
Here are a few of the tournaments and top players to keep an eye on in week 1. 
Coweta Invitational:
Teams include 5A state qualifiers Coweta, Glenpool, Sapulpa, Lawton Macarthur, and Carl Albert. They also have Tahlequah, Collinsville, and Claremore who were all ranked in the top 10 at some point last season. This is quite the preview for 5A and a chance for someone to get a huge head start in the rankings. 
Players to watch- A player with a powerful swing 2022 OH Ryann Hoey Ryann Hoey 5'10" | OH Sapulpa | 2022 State OK from Sapulpa, a big block that is smart with her shots 2023 RH Holly Ford Holly Ford 5'10" | RS Carl Albert | 2023 State OK from Carl Albert, libero that does a good job digging in transition 2022 DS Jessica Thompson from Sapulpa, recent NWOSU commit 2022 MB Grace Meeker from Coweta, an attacking option both front and back row 2022 OH Madison Swift from Coweta, and a multi-sport talent 2024 OH Bailey Lowder from Lawton Mac. 
Sandite Invitational:
Teams include back-to-back-to-back state champ Lincoln Christian, 6A teams Bixby, Enid, Lawton, Choctaw, and Sand Springs. 5A Southeast who went 17-2 last season and 3A west side private school Southwest Covenant. They have a nice mix of solid 6A teams with some tough smaller class schools. It is a round-robin format, so each team plays all of the rest. Somebody will possibly leave week 1 with 7 more wins on their resume, which can be huge for rankings.  
Players to watch- A 5-1 setter that has soft hands and already a few college offers 2022 S Tehya Johnson Tehya Johnson 5'7" | S Charles Page | 2022 State OK from SS, lighting quick with her reactions 2022 DS Maddie Morris Maddie Morris 5'5" | DS/L Choctaw | 2022 State OK from Choctaw, versitile 6 rotation player with a big swing 2023 OH Olivia Vance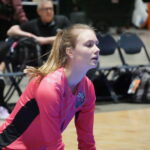 Olivia Vance 5'10" | OH Bixby | 2023 State OK from Bixby, likely a top 2024 player S Raegan Vernon Raegan Vernon 5'9" | S Bixby | 2024 State OK from Bixby, 6 rotation player that will make a name for herself this season 2023 OH Payton Robbins from SS, libero that reads the hitters very well 2022 DS Charley Fahland from SS and a dangerous attacking setter 2022 S Chloe Ricke from Lincoln Christian. 
Norman High Tournament: 
Teams include 6A state qualifiers Edmond Santa Fe, Mustang, and Edmond Deer Creek. They will also have 6A powers like Broken Arrow, Norman High, Yukon, Southmoore, and Ponca City in attendance. This will be a big tournament that will help determine where some top teams start out in the first rankings. There is plenty of top talent to be seen playing each other in this tournament. 
Players to Watch: #1 in the class of 2022 recent commit to Kent State 6'2 OH Mackenzie McGuire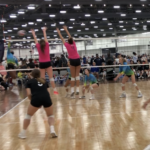 Mackenzie McGuire 6'2" | OH Broken Arrow | 2022 State OK from Broken Arrow, 2022 a big presence up front with 6 ft Abigail Conaway from Norman High, Daughter of UCO head coach 2022 S Abiana Miraku Abiana Miraku 5'6" | S Santa Fe | 2022 State OK from Edmond Santa Fe, the left-handed dump artist Casady McKinney Casady McKinney 5'7" | S Mustang | 2022 State OK from Mustang, a player who can attack all across the net 2022 MB Madison Edwards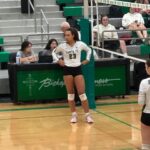 Madison Edwards 6'0" | MB Edmond Santa Fe | 2022 State OK from Edmond Santa Fe, Yukon's 2022 MB Katie Clark Katie Clark 6'1" | MB Yukon | 2022 State OK can really cause trouble at the net, a 2022 SWOSU commit Cameron Turner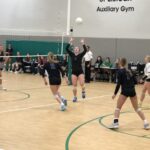 Cameron Turner 6'0" | S Deer Creek | 2022 State OK from Deer Creek, and 2023 OH also from Deer Creek Jenna Houck can really put away a ball if not defended well.