A stacked field of some of the best the West of the state has to offer met up at East Kentwood on Saturday.
The East Kentwood Volleyball Classic was a 9-team field that held three, 3-team pools. The pool winners then met for a 3-team pool of their own to determine the Classic champion.
In the Red Pool, Grand Rapids Christian (No. 2 D2) came out on top of Holland Christian (No. 13 D2) and Wayland (HM D2).
In the Black Pool, Hudsonville (No. 2 D1) bested Grand Rapids Catholic Central (No. 5 D2) and the hosts, East Kentwood (No. 15 D1).
In the Silver Pool, Rockford (No. 5 D1) got past Lakewood (No. 4 D2) and Grand Rapids West Catholic (No. 12 D2).
In the championship pool, all three teams would pick up a win and a loss. Play started with Rockford besting Grand Rapids Christian 27-25, 25-22.
The Eagles would then bounce back and hand Hudsonville its first loss of the season by scores of 25-20, 25-22.
Hudsonville would respond with a dominant 25-13, 25-16 win over Rockford to close out play.
Due to the scoring differences in the sets, Hudsonville came away as the tournament champions.
"I loved our ability to bounce back. One loss isn't going to shake this team," Hudsonville coach Stephanie Chenlo said. "The girls started trusting each other more. Once that happened, you could see what we are capable of. Everyone has high expectations this year, but we just want to get a little better each day."
Here's some thoughts on which players stood out in the championship pool.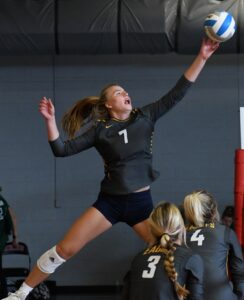 Hudsonville: Saturday saw the good and the bad of Hudsonville. They had some stretches where they just weren't clicking. However, when they were, they were unstoppable. The Eagles definitely found that next gear in the win over Rockford. Their length at the net provided a lot of big blocks and tips. Seniors Olivia Howlett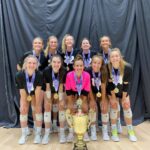 Olivia Howlett 5'10" | MB Hudsonville | 2022 State MI , Leah Rogers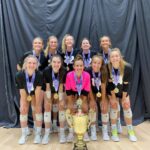 Leah Rogers 6'2" | MB Hudsonville | 2022 State MI and Emmalee Murphy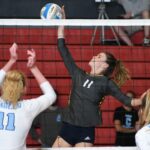 Emmalee Murphy 6'0" | MB Hudsonville | 2022 State MI were all impactful offensively and defensively. When Rogers was set, the point usually was over. Eva Joldersma was great all over the court and really provides a great balance of power and grace with her swings. Sophomore Isabelle Swiercz impressed as well on the outside. She could be a go-to hitter in many places around the state. Defensively, senior libero Carlina Bender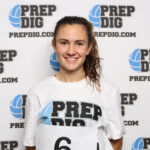 Carlina Bender 5'5" | DS/L Hudsonville | 2022 State MI is always steady and able to make great passes to allow the offense to dominate. Sophomore Gianna Bender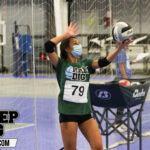 Gianna Bender 5'4" | DS/L Hudsonville | 2024 State MI is a great compliment in the back row as well. With its blocking and arsenal of arms, Hudsonville is definitely going to be difficult for anyone to get past.
Hudsonville's Eva Joldersma with the finish @HudsonvilleVB pic.twitter.com/5xTwfdNR8c

— Prep Dig Michigan (@PrepDigMI) September 11, 2021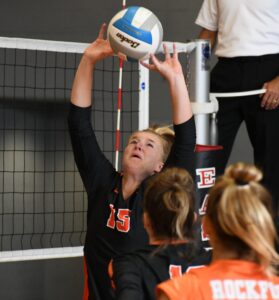 Rockford: The Rams have just a 12-4 record, but their four losses are to GRC, Hudsonville (twice) and Marian. That's pretty much the cream of the crop in the state right now. Rockford is solid everywhere and their offensive depth allows them to continually mix up their attacks and angles. Mackenzie Delacher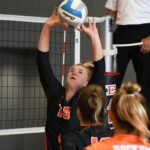 Mackenzie Delacher 5'10" | S Rockford | 2022 State MI handles the responsibility as the setter very well. She finds the right hitter and keeps the entire offense running like a well-oiled machine. Like Hudsonville, Rockford has great middle play with Ava M Young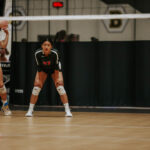 Ava M Young 6'0" | MB Rockford | 2022 State MI and Ava Horton Ava Horton 5'11" | MB Rockford | 2022 State MI . They get their hands on a lot of attacks and are very alert defensively. On the outside, the Rams have a lot of options as well. Avery Toole Avery Toole 5'11" | OH Rockford | 2022 State MI had some highlight-reel kills throughout the day. Rockford was at its best when it was able to serve aggressively, and that was quite often throughout the tournament.
Rockford's Meredith Simmons puts the point away against GRC pic.twitter.com/2zNCwnCy80

— Prep Dig Michigan (@PrepDigMI) September 11, 2021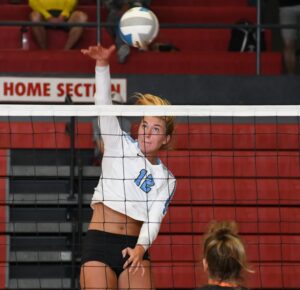 Grand Rapids Christian: The Eagles are still very much a player in the D2 race. New coach Betsy DeVries has the team playing great as they seek a fourth consecutive state title. Evelyn Doezema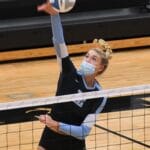 Evelyn Doezema 6'2" | OH Grand Rapids Christian | 2022 State #34 Nation MI has really embraced her new role as the go-to player for GRC. She's dominant with her attacks, a great block, but also has put a lot of time and effort on improving her defensive skills in the back row. She's got the complete package on the court. Along with Doezema at 6'3", the Eagles have a lot of height in the middle with senior Kate Breems (6'0") and junior Makenzie Ritsema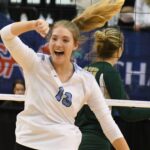 Makenzie Ritsema 6'0" | MB Grand Rapids Christian | 2023 State MI (6'0"). The three of them are quite imposing on the front row and make for a great blocking trio. Senior setter Alyssa DeVries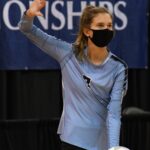 Alyssa DeVries 5'10" | S Grand Rapids Christian | 2022 State MI really shined offensively and defensively. She's playing with a lot of confidence after a great junior year and you can see she's embracing her leadership role. Defensively, Grace Spoelma Grace Spoelma 5'8" | S Grand Rapids Christian | 2024 State MI is going to be a big key at libero. She's playing with a lot of energy and is aided by her blocking, but she shows a lot of promise.
Evie Doezema continues to have a big day for GRC. Another powerful kill pic.twitter.com/KLNIMTpv1T

— Prep Dig Michigan (@PrepDigMI) September 11, 2021