Last week was a little slower than normal due to Labor Day but this week is really going to pick back up and get the second half of the season rolling. Last week we saw the matchup of the #1 ranked teams in 3A and 4A get rescheduled due to COVID issues, but we will be looking forward to that match when it does happen. We also saw Jenks and Cache both step up and avoid the upsets from happening. This week is loaded and has plenty of games to choose from. Here are a few matches that should be interesting to watch. 
Edmond Memorial @ Edmond Santa Fe 9/14
This will be a rematch of this past weekend's gold bracket match in the semifinals of the Heather Harkness tournament. Santa Fe swept Memorial but revenge is oh so sweet if the Bulldogs can get it. 
Players to watch: Katelyn Branson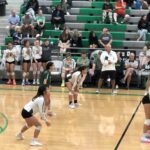 Katelyn Branson 5'6" | OH Santa Fe | 2022 State OK has been key for Santa Fe, she played really well in the back row and very consistent in the front row this past weekend, which earned her an All-Tournament selection. We got to see 2022 MB Madison Edwards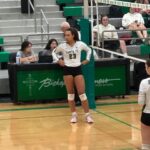 Madison Edwards 6'0" | MB Edmond Santa Fe | 2022 State OK play first hand and she did not disappoint and deservedly was voted the MVP of the tournament. She really is a gifted middle, hits a variety of sets extremely well, closes her blocks to the pins, and makes great decisions with what to do with each set she is given. OH Annie David and L Joeci Hunt Joeci Hunt 5'5" | DS/L Edmond Memorial | 2022 State OK were voted all tournament as well and rightfully so. They are the offensive and defensive pace setters for the Bulldogs. 
Lincoln Christian @ Holland Hall 9/16
A top 5 matchup in class 4A, both of these Tulsa private schools have had their share of success in recent years. Lincoln is currently ranked #3 and Holland Hall #5. Lincoln is coming off a slower week, only having one game and the weekend to rest. Holland Hall is coming off of a very busy week, where they had two games and the Port City Classic in Catoosa. In that stretch, they went a combined 4-5. Prior to that, they had only lost two games. This could play a factor in how this huge matchup plays out. 
Players to watch: 2023 MB Kalayia Johnson is an athletic player that has really worked on her game in the past year and is now rocking and rolling. She runs an efficient slide attack to keep the blockers working pin to pin. 2023 OH Macy Collier has been Holland Hall's go-to player and she is not scared of the big moments. 2024 Payton Tuggle from Lincoln has really gained some steam this season, starting when she earned All-Tournament early on at the Sandite Invitational and hasn't looked back. 
Owasso @ Jenks 9/16
This will be a huge battle for the Frontier Valley Conference race. Both teams are fighting for the top each and every year. Not to mention, both teams are ranked inside the top seven of 6A. They have a combined record of 27-9. Owasso also has 6A #9 Bixby earlier in the week and Jenks has a road trip to Muskogee. Both will only have one day's rest before the big game. 
Players to watch: 2024 OH Maren Johnson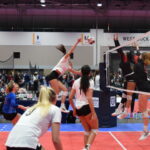 Maren Johnson 6'0" | OH Jenks | 2024 State OK should be back as the OH1 for Jenks and help them out offensively. 2022 L Megan Salyer Megan Salyer 5'5" | DS/L Jenks | 2022 State OK should be moving up in the rankings, she is a top elite defender in the state. She played club at a very high level this past season and it has helped her read the ball even better than before. 2022 Rylee Martin Rylee Martin 5'8" | S Owasso | 2022 State OK continues to play at a high level for Owasso and has been a big reason they are currently #7 and 16-5 on the season.