Posted On: 09/13/21 7:59 AM
Last week was a little slower than normal due to Labor Day but this week is really going to pick back up and get the second half of the season rolling. Last week we saw the matchup of the #1 ranked teams in 3A and 4A get rescheduled due to COVID issues, but we will be looking forward to that match when it does happen. We also saw Jenks and Cache both step up and avoid the upsets from happening. This week is loaded and has plenty of games to choose from. Here are a few matches that should be interesting to watch. 
Edmond Memorial @ Edmond Santa Fe 9/14
This will be a rematch of this past weekend's gold bracket match in the semifinals of the Heather Harkness tournament. Santa Fe swept Memorial but revenge is oh so sweet if the Bulldogs can get it. 
Players to watch: Katelyn Branson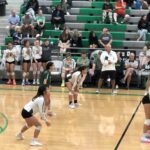 Katelyn Branson 5'6" | OH Santa Fe | 2022 OK has been key for Santa Fe, she played really well in the back row and very consistent in the front row this past weekend, which earned her an All-Tournament selection. We got to see 2022 MB Madison Edwards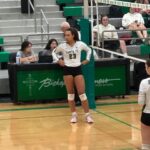 Madison Edwards 6'0" | MB Santa Fe | 2022 State OK play first hand and she did