We just got done highlighting some of the big winners and trends from last weekend's LPS Volleyball Classic in Lincoln. Now, it's time to go into more detail on some standout players.
There was some great variety among the impact middle blockers at this event. They occupied different roles and graduating classes. This tournament was a great venue to showcase Nebraska's depth of talent at every age group and position.
So, let's check out a few middle blockers that stood out last weekend.
Sydney Raszler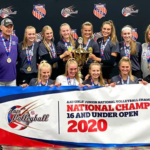 Sydney Raszler 6'0" | MB Elkhorn | 2022 State NE – 6'0 OH/MB – Elkhorn – Class of 2022
Elkhorn was agonizingly close to making the championship bracket for this event, and their senior middle blocker shined throughout. Raszler can take swings from just about anywhere, and the Antlers have done a great job of allowing her to flourish in their offense. Her length can stifle even the best hitters, and this Rockhurst University commit is on track for a huge final season.
Regan Haith Regan Haith 6'1" | MB Lincoln Pius X | 2022 State NE – 6'2 MB – Lincoln Pius X – Class of 2022
It quickly became clear that Haith was a big problem for opposing teams and coaches, and it was impossible to miss her when she was on the floor. Her swings produced a sharp pop that could be heard across the gym. Haith consistently put down some heat at the three-meter line when attacking in front of the setter. She was a dominant blocking force at the net, too. Eastern Michigan University is surely excited to add Haith to the fray next year.
Karli Ahlers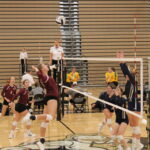 Karli Ahlers 6'0" | MB Papillion-La Vista | 2022 NE – 5'10 MB – Papillion La Vista – Class of 2022
Ahlers has been a playmaker with this program for a long time. That experience shows on the court, too. This veteran middle blocker can stretch opposing defenses with her threat to score on one or two feet. Ahlers thrives when attacking in different gaps and maneuvers around blocks well. Her leadership will be incredibly valuable as the Monarchs look to return to postseason action.
Kenzie Keith – 6'2 MB – Bellevue West – Class of 2022
Despite some key roster losses from last year's team, the Thunderbirds have proven that they're not going to slow down after the breakout 2020 season. Keith brought tremendous energy and skill to her team throughout the weekend and played a big part in propelling Bellevue West to the upper bracket. In a field full of standout senior middles, you can't overlook what Keith contributes at the net.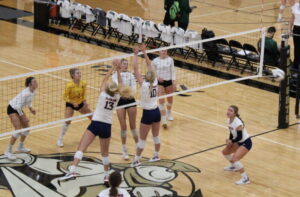 Anistyn Rice – 5'10 MB/RS – Norris – Class of 2023
Norris has plenty of intriguing hybrid players that could realistically play a couple of different positions, and Rice is a great example. She can take some big swings from either pin, but she was a shutdown middle at the LPS Classic. Rice can fill blocks well from the middle and works hard to be an offensive threat in transition. This versatile skillset fits right in with what the Titans like to do.
Morgan Bode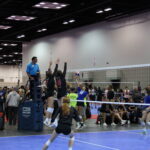 Morgan Bode 6'1" | MB Papillion-La Vista South | 2024 State NE – 5'11 MB – Papillion-La Vista South – Class of 2024
Papio South continues to get better and better, which is a somewhat profound statement for a team that hasn't lost yet this year. One reason for this improvement is how young players like Bode have found their rhythm in the lineup. This sophomore middle plays with great maturity and makes blocking look easy. Her quick arm provided a great spark for the Papio South offense last weekend, and that trend should continue in the weeks to come.
Madison Rink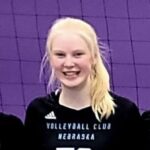 Madison Rink 6'1" | MB Lincoln Southwest | 2024 State NE – 6'1 MB – Lincoln Southwest – Class of 2024
It was exciting to watch the unique combination of heralded seniors and rising upperclassman that Lincoln Southwest brings to the floor. Rink represents the bright future for the Silver Hawks. Her length makes her a natural fit for the middle blocker spot, and her technique is well ahead of her age. With more high-level training, Rink could become a cornerstone of Southwest's talented 2024 class.