Jenks Invitational
Teams attending: 6A Jenks, 6A Mustang, 6A Norman North, 6A Booker T. Washington, 6A Bishop Kelley, 6A Bixby, and 6A Bentonville (Arkansas) 
There are loads of quality competition here. Every team playing in this tournament will be more prepared for the last couple of weeks of the season. This is anyone's tournament, it will be tough sledding to come out unscathed and win the title.  
Players to keep an eye on at this tournament: 2022 OH Sydney Thompson Sydney Thompson 5'8" | DS/L Washington | 2022 State OK for BTW has passed out of this world in SR. She is a must-avoid type target when serving. She also is a crafty hitter for the Hornets and is giving them 6 rotations worth of production. 2022 setter for Mustang, Casady McKinney Casady McKinney 5'7" | S Mustang | 2022 State OK , has been the offensive, left-handed setter they need. She can put up a good ball or attack the ball from the front row. Look for Chloe Upthegrove Chloe Upthegrove 5'9" | S Norman North | 2022 State OK and Sarah Lindley Sarah Lindley 6'2" | RS Norman North | 2022 State OK to play big roles this tournament. Lindley has been slowly recovering from an injury and is looking almost full strength. I think they will both have huge performances this weekend for Norman North. 2022 Libero Megan Salyer Megan Salyer 5'5" | DS/L Jenks | 2022 State OK for Jenks has continued being a master of the passing world. She can serve receive and dig in transition with the best of Oklahoma. They often only pass with 2 players because she can cover that much ground. Can the young gun of Bishop Kelley, Curry Kendall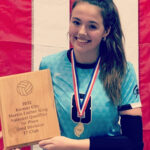 Curry Kendall 6'1" | OH Bishop Kelley | 2024 State OK , continue being brilliant on the court? I think if her track record tells us anything, it's heck yes she can! She has a big swing but can also hit an off-speed that is hard to read. 
Bishop McGuinness Tournament
Teams attending: 6A Edmond Santa Fe, 6A Bishop McGuinness, 5A Carl Albert, 6A Yukon, 6A Deer Creek, 4A Lincoln Christian, 6A Sand Springs, and 6A Choctaw. 
Santa Fe, Deer Creek, and McGuinness are all looking to bolster their resume right at the end of the season, while Lincoln and Carl Albert will be looking to solidify themselves at the top and get used to playing some stiff competition right before playoffs. Choctaw and Sand Springs are going for upsets and trying to creep into the top 16 to become a 2 seed in their regionals. 
Players to keep an eye on at this tournament: 2023 OH Grace Smallwood Grace Smallwood 5'7" | OH Bishop McGuiness | 2023 State OK has returned from injury and already making a huge impact for Bishop McGuinness. I had a chance to speak with this young lady and she has everything you could hope for in an athlete; she is skilled, she works hard, and has quality character off of the court. 2023 MB for SS, Layla Lenex Layla Lenex 6'0" | MB Charles Page | 2023 State OK , has been getting better and better each week. She was voted all-tournament by nearly every coach in attendance at the Owasso tournament this past weekend. 2022 MB Katie Clark Katie Clark 6'1" | MB Yukon | 2022 State OK for Yukon is being talked about amongst coaches. She is someone that will demand your attention as the opposing team and coach. 2022 OH Mazi Watson Mazi Watson 5'9" | OH Deer Creek | 2022 State OK has been a great support player for Deer Creek and a big reason why they have only have 3 losses. 
Claremore Tournament
Teams attending: 5A Claremore, 4A Regent Prep, 4A Skiatook, 6A Bartlesville, 6A Muskogee, 4A Victory Christian, 6A Moore, and Homeschool NOAH. 
This tournament has "tough" written all over it. Each of these teams has played well against some top teams, some have got an upset or two under their belts already. This could be a real barn burner for the title. 
Players to keep an eye on at this tournament: 2022 RH Dayton commit, Mia Otten Mia Otten 6'3" | RS Bartlesville | 2022 State OK from Bartlesville has continued to put up big numbers all season long. Reilly Morrow Reilly Morrow 5'11" | S Moore | 2022 State OK has been a big part of Moore and the way they play. The 2022 setter does a really good job of keeping them in system. She isn't only a setter that dishes out assists, she also is a very crafty attacker. Claremore has a skilled and hardworking libero, Becca Hilmes. She has great court awareness and covers a lot of ground in transition. Taylor Motes Taylor Motes 5'11" | MB Victory Christian | 2024 State OK and Jessa Gilyard for Victory have both come on this season as vital role players to the team's success.