Posted On: 10/7/21 11:51 AM
It's time to continue to our midseason report list of who have been playing the best this season. We took a look at outside hitters, setters and defensive specialists. Now it's time to look at the top middle blockers. These ladies have really impressed me this season. The list is in no particular order. 
Bridget Lonergan (Mount St. Dominic)
Lonergan has been the focal point of a Mount Dominic squad that has found its groove. But she has taken this season by storm to start the year and she is starting to find her groove as MB/OH. She has opened this season with a vengeance with 133 kills and 36 blocks.
Esther Babatunde (Linden)
Babatunde for Linden has been a solid defender in the middle this season. She has great anticipation and able to guess her angles of where her opponents are going defensively. On top of that, she's consistent and you know she will show up every match. She has 104 kills and 37 blocks. 
Brookelyn Talmadge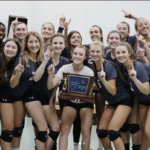 Brookelyn Talmadge 6'0" | MB Immaculate Heart | 2023 State NJ (Immaculate Heart)
Talmadge took on the number one role at Immaculate Heart with open arms last season and she ran with it. Her athleticism and length in the middle complimenting