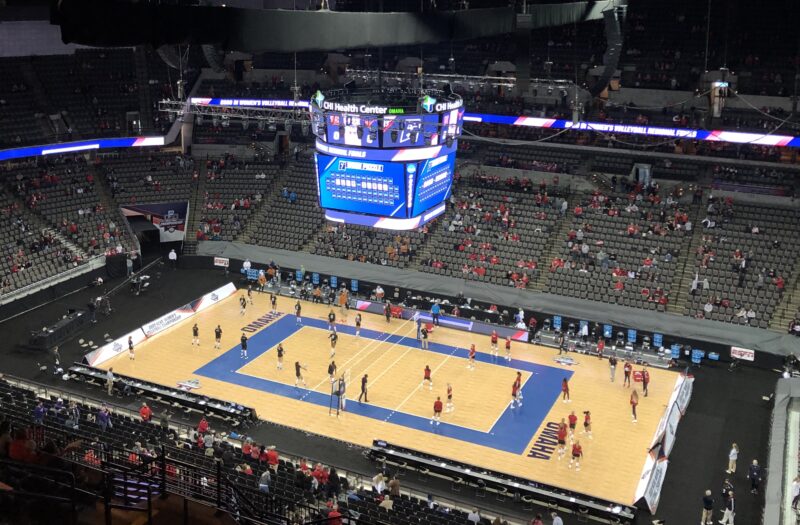 Posted On: 12/2/21 9:00 AM
It's time to evoke some old memories and highlight what makes Nebraska volleyball so great.
The 2021 Division I NCAA Volleyball Tournament starts today, and the 64-team has plenty of talent from the Cornhusker State. I always marvel at how many impact players a small state like Nebraska can produce for elite volleyball programs around the country. We're going to talk about those players here.
These are the Nebraska prep alums, along with their respective teams, that have a chance to compete in the NCAA Tournament.
😎

📍Volleyball, USA. pic.twitter.com/gVZiWXG7go

— Austin Kingsley (@KingsleyATK) September 9, 2021
#14 Creighton
Emily Bressman – Junior OH – Omaha Marian
Katie Maser – Sophomore S – Grand Island Central Catholic
Norah Sis – Freshman OH – Papillion-La Vista
Megan Skovsende – Sophomore OH/DS – Omaha Skutt Catholic
Jaela Zimmerman – Senior OH – Malcolm
You're not surprised by Creighton's heavy Nebraska representation, are you?
This Bluejays team, which is national seeded once again after a 30-3 season and another Big East championship, gets so much from its local talent. Sis had a spectacular true freshman season and was just named Big East Freshman of the Year. After seeing her light up the Nebraska prep scene for several years, you had to know this success was coming.
The ascent of Zimmerman has also been incredible, and the veteran hitter from Malcolm earned all-conference honors this year. Creighton hosts a Thursday opener against Ole Miss, a team coached by University of Nebraska-Lincoln alum and former Olympian Kayla Banwarth.
Illinois
Kyla Swanson – Junior MB – Wahoo
It's been a breakout season for the junior middle blocker from Wahoo. Swanson has been a fixture in the Illini starting lineup since the beginning of the year and has helped anchor the team's big block. Illinois travels to Kentucky and will face West Virginia in the opening round.
Iowa State
Jordan Hopp – Sophomore MB – Alliance
Addison Heidemann – Freshman S – Diller-Odell
It's always nice to see a pair of small-town Nebraska stars on a team coached by a Nebraska native, Christy Johnson-Lynch. Hopp and Heidemann will travel with the Cyclones to the Minnesota sub-regional and face Stanford in the opening round.
Kansas State
Molly Ramsey – Freshman DS/L – Norris
This is not the only Norris athlete we'll see on this feature. Ramsey surely has an opportunity to make a big impact with Kansas State before her time is done. This tournament is an exciting homecoming for Ramsey, too, as the Wildcats head to Lincoln to face Florida State in the opener of the Nebraska sub-regional.
#10 Nebraska
Anni Evans – Sophomore S – Waverly
Whitney Lauenstein – Freshman OH/RS – Waverly
Kalynn Meyer – Sophomore MB – Superior
Lindsay Krause – Freshman OH/RS – Omaha Skutt Catholic
Rylee Gray – Freshman MB – Elkhorn South
Homegrown talent will have a big influence on this year's tournament run for the Cornhuskers.
Lauenstein and Krause have been in a hotly contested battle all year long for Nebraska's starting opposite position. They're going to have some fabulous careers in the scarlet and cream, and the rest of this group will also be vying for a lot of on-court action moving forward. The Cornhuskers open the tournament at home against Campbell.
Northern Colorado
Michaela Boon – Junior DS – Norris
I promised there'd be another Norris athlete here, and Boon has represented the Titans well as a backcourt specialist for Big Sky champion Northern Colorado. The Bears travel to Waco for an opening-round battle with Washington State.
#3 Pittsburgh
Sabrina Starks – Senior MB – Platteview
Another small-town talent is making her presence felt. In this case, it's on one of the top teams in the country.
This Platteview product has had no problem racking up some big blocking numbers during her time with Pitt. Starks and her team will hope to host through the regional final round and begin their run against UMBC.
South Dakota
Atley Carey – Sophomore MB – Waverly
Mattie Johnson – Sophomore OH – Sidney
Madison Jurgens – Senior S – Diller-Odell
Brooklyn Schram – Sophomore S – Papillion-La Vista
Kylen Sealock – Freshman OH – Lincoln Pius X
Maddie Wiedenfeld – Senior MB – Omaha Marian
Clearly, the Coyotes have a strong Nebraska pipeline.
I've particularly enjoyed watching Jurgens lead the South Dakota offense this fall. She's an aggressive setter with a competitive edge that you see with a lot of Diller-Odell alums.
South Dakota claimed the Summit League after a win in the conference championship match against Omaha, a team with Nebraska natives at every position. The Coyotes join Iowa State in the Minnesota sub-regional and will face the host Golden Gophers in the first round.
Southeast Missouri State
Izzy Lukens – Sophomore S – Millard North
SEMO is back on top in the OVC, and Lukens played a crucial role as a serving specialist throughout the season. Her stock will only continue to grow as her career with the Redhawks progresses. Like Illinois, Southeast Missouri State is going to the Kentucky sub-regional and has an opening-round contest with the host Wildcats.
Central Florida
Nerissa Moravec – Senior MB – Lincoln Southeast
Here's one for my alma mater!
Moravec has been thriving throughout her journey as Lincoln Southeast Knight and a UCF Knight. She currently ranks seventh nationally in blocks per set and has been sustaining this dominance for a long time. UCF is going out west to the UCLA sub-regional to face Pepperdine.
West Virginia
Kristin Lux – Senior OH – North Bend Central
Lastly, we have another hidden gem who has been putting up big numbers for the Mountaineers. Lux led the team in kills in 2020 and has carried that momentum into this year, helping West Virginia to its first-ever tournament appearance in women's volleyball. The Kentucky sub-regional seems to be the place for Nebraska natives to congregate, and Lux will travel there with her team to face Illinois.