Posted On: 01/14/22 6:41 PM
Bid season is upon us and some will go out this weekend in Kansas City at the annual MLK tournament! There are 11 teams on the schedule for this weekend, two pools of four and one of three. Here are the local teams looking to breathe easier through the remaining season by grabbing early bids.
Pool 1: Dynasty 18 Black and KC Power 18
Pool 2: Dynasty Academy 18 and PVA 18 Elite
Pool 3: Pohaku 18  and Shockwave Academy 18 Ryan
Dynasty 18 Black
This team comes in with a revamped roster but returns state champions Jasmine Dulan Jasmine Dulan 5'7" | OH Blue Valley North | 2022 State KS and Iyannah Jackson Iyannah Jackson 6'0" | MB Lansing | 2022 State KS . Dulan earned all-state honors and is a player who can fill many roles. Jackson is a dynamic middle who is still on the market for a program. New additions include the pin duo of Taylor Stockman Taylor Stockman 5'11" | OH Blue Valley West | 2022 State KS and Sarah Pyle Sarah Pyle 5'9" | OH St.Thomas Aquinas | 2022 State KS from PVA. They can fill up the score sheet from the outside. Defender Vivian Kieffer Vivian Kieffer 5'6" | DS/L Shawnee Mission Northwest | 2022 State KS comes over from the Mavs to help solidify their back-row defense. Addison Beagle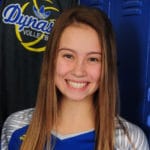 Addison Beagle 5'9" | S Liberty North | 2022 State MO is back to lead the offense after another strong season for Liberty North.
KC Power 18
When this