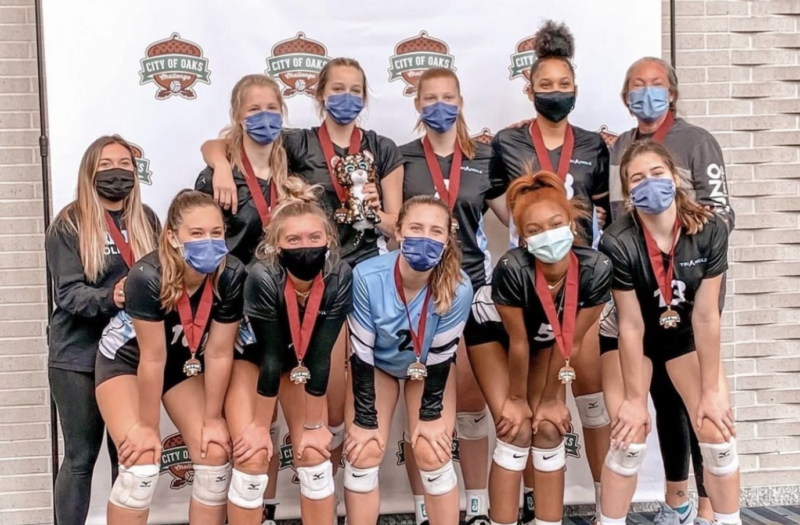 Posted On: 05/28/22 4:14 PM
Here we are with another Triangle Volleyball Club article, but this time it features their talented 16 Blue players! Here's four standouts that you should keep an eye out for on their club volleyball journeys. 
Bella Lineberger- The setter and heart of this team, Bela Lineberger is a huge key to the success of this squad. You can tell that Lineberger's mind is always focused into the game and how to make her teammates better. I love her attitude and want to win, and this makes this kid a stud. Plus, she's very smooth in the setting position with some butter hands and amazing jump setting skills. Wherever the ball is, she's getting around it and squaring up, so her hitters can have the most success. Lineberger is a team player which makes her one to watch. 
Caroline Raymer- If there were two hearts to a team, Caroline Raymer would be the other half. Triangle 16 Blue's speciality is definitely the first and second touch, and Raymer 50% off the time has to do with one of the two. In serve receive, she's quick with her feet to get her body behind the ball which allows her to take up so much court. Plus, she's confident back there which allows her teammates to trust her. Raymer is a libero that takes over the back row and will make plays when you need it the most. 
Lily Gervase- Standing at 6'4, Lily Gervase is definitely their go-to in the front row as a middle blocker. She definitely makes her presence known when she's up there and does a great job offensively. Lineberger and Gervase have an unstoppable connection when they are front row together because of the dynamic they create. One play, they may run a slide all the way out to the pin and the next, Gervase bombs a 31. Gervase is so hard to defend because of her versatility but also her ability to execute. 
Lucy Coppedge- The last player to keep an eye on is this 5'9 all around outside hitter, Lucy Coppedge. I think this one might be the fire within the team because when I watch her play, I just want to be next to her. Coppedge has a great toolbox of shots whether she's hitting left for two rotations or right side for one. In one rally, Coppedge hit deep zone 5, tipped short corner, and then ended the rally with a roll shot jumbo kill over right back's head. Plus, Coppedge plays hard in the back row too picking up all the trash in middle back and serve receiving smoothly.