This content series is sponsored by GameChanger – The Official Scorekeeping, Stats, Team Management & Technology Partner of Prep Dig.
My notes from the Gauntlet are jam-packed with amazing players and teams and they will all undoubtedly be highly impactful in the fall.  These players have a solid foundation of skills and will be fun to watch their progression as they have plenty of momentum heading into Nationals and then the 2022 High School Season.   I hope I can make it through all of my notes before having to move on to my next event, but if I don't, I want you to know this is a fraction of the notes I have and there were so many amazing players, I could honestly write for an entire month and still have untouched notes.  
Ellie White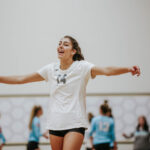 Ellie White 5'11" | RS Mother McAuley | 2024 #52 Nation IL – 2024 – 5'11 – Setter/Right Side Hitter – Mother McAuley (IL) – 1st Alliance 16 Gold 
White is one of those players you just wish you could have at least 4 of and your team would be studly.  She can really run an offense with great hands and being a super athletic setter there aren't many 2nd balls that end up unhittable.  1st Alliance gets 6 rotations of outstanding setting with White and  Kinsey Smith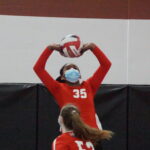 Kinsey Smith 5'10" | S Oak Park And River Forest | 2024 IL .  They are both quick and can run a quick-tempo offense, as well as work against the flow with ease.  As an attacker, White takes an aggressive approach that is fast and explosive and makes a smart swing selection.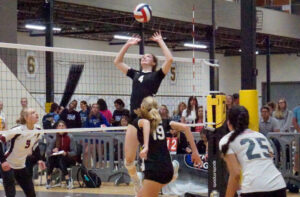 Madison Shroba and Ava Schabes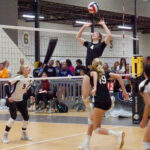 Ava Schabes 5'10" | S Whitney Young | 2023 IL – 1st Alliance 17 Silver (IL)
These two are a force when they really get in sync.  Shroba (Committed to Lewis University) is a strong attacker who can crush the ball and is always an option for a strong attack out of the back row.  Schabes (Committed to Colgate) is a setter who hangs in her jumpset making her really hard to read, and then she can push the ball quickly to her hitters with great location. They are both strong defensive players and know how to make really positive plays for 1st Alliance. 
Gabriella Babinski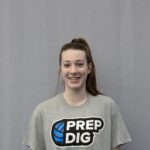 Gabriella Babinski 6'1" | OH South Lyon East | 2025 MI and Chloe Giehtbrock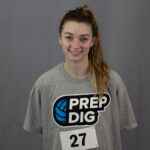 Chloe Giehtbrock 6'1" | OH Clarkston | 2025 MI – MiElite 15 Mizuno (MI) 
I would not be surprised to see these two up in the 2025 rankings in the future.  Babinski is super terminal and can attack with the best of them.  She is dominant and playing at a whole different height than the competition offensively and as a blocker. Giehtbrock can play on either pin and takes a really well-calculated swing cross court.  She has a way of finding a spot just inside the block and takes a hard swing. 
Jumana Martin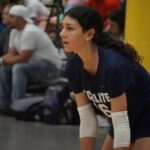 Jumana Martin 5'6" | DS/L Appleton North | 2025 WI and Madison Tripp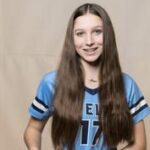 Madison Tripp 5'8" | S Kaukauna | 2025 State WI – FC Elite 15 Navy (WI) 
These two provide a very reliable first two contacts for FC Elite.  Martin is a libero who is spunky, physical, and covers a lot of court.  Her teammate, Madison Tripp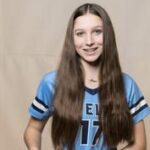 Madison Tripp 5'8" | S Kaukauna | 2025 State WI , is a super athletic Class of 2025 setter who just keeps getting better.  She has quick feet and hands and can move the ball pin to pin quickly with a smooth release.  
Molly Rohde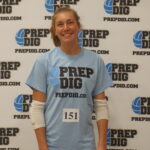 Molly Rohde 5'11" | MB Hortonville | 2023 State WI – 2023 – 6'1 – Middle Blocker – Hortonville (WI) – FC Elite 17 Navy – Committed to Rider University 
Rohde was very energetic out of the middle, as she was running a dynamic route behind the setter and taking swings off the blocker's fingertips for an undefendable kill.  She has no problem getting from pin to pin to close the block and still transitions to get up in front of the setter quickly to execute an attack.  Rohde has great court awareness and a high contact point so she can tip, push to the corner, or hit a sharp angle at will.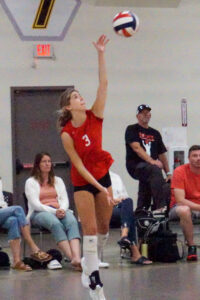 Northern Lights 16-1 (MN) 
This 2024 class at Northern Lights has well-rounded players at every position who can adapt and contribute in a number of ways. Meghan Roggenkamp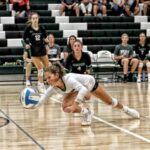 Meghan Roggenkamp 5'8" | DS/L Rockford | 2024 State MN  may have started the weekend as a libero but ended as a six rotation outside when their 7-man crew was cut to 6 due to an injury.   Setter, Maddy Dombek is the little fireball who commands the court and keeps pushing this group forward.  She is a lefty and a smooth operator as she ran a 5-1 all weekend.  Their weapons were comprised of  Avery Jesewitz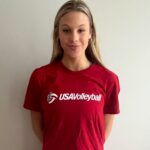 Avery Jesewitz 6'3" | OH Wayzata | 2024 State #61 Nation MN ,  Audrey Kocon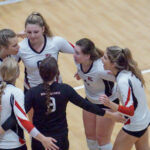 Audrey Kocon 6'1" | S Mounds View | 2024 State MN ,  Paige Wagner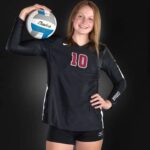 Paige Wagner 6'3" | MB Lakeville South | 2024 State MN , Luca Bredenberg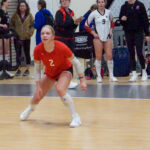 Luca Bredenberg 5'9" | DS/L Southwest Christian | 2024 State #98 Nation MN , and  Hadley Burger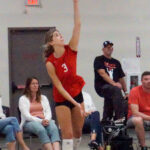 Hadley Burger 5'11" | RS East Ridge | 2024 State MN .  Jesewitz is 6'3, extremely athletic, and has a high contact point with a booming swing that is dangerous.  Kocon is actually listed as a setter and will primarily set, as well as hit on the right side, since she is also a lefty.  At the Gauntlet, Kocon was playing middle blocker and working the angles really well.  By the final match, she was back to playing all six rotations.  Wagner puts up a massive block and knows how to paint the corners.  She is a quick jumper out of the middle with a fast arm swing.  Bredenberg is listed as a defensive specialist, but she was a six-rotation outside for the Gauntlet and she had really solid defense, as well as making some big plays under pressure. Burger is the lefty right side who was solid in serve-receive and is becoming a real offensive threat out of the back row as well as the front.  She came in clutch with the perfect shot at just the right time during the playoffs.  
2024 lefty Audrey Kocon Audrey Kocon 6'1" | S Mounds View | 2024 State MN from @nlightsvball 16-1 really can do it all. Primarily she is a Setter/Right Side Hitter but this weekend she was a middle! #PDGauntlet @PrepDigChris @PrepDigEvents @PrepDig @PrepDigMN pic.twitter.com/urJ3zrLXLT

— Breit Nelson (@BreitNelson) May 30, 2022
Lucille Larson Lucille Larson 5'5" | DS/L Northfield | 2024 State MN – 2024 – 5'5 – Libero – Northfield (MN) – Northern Lights 16-2 
Larson really impressed me with her movement on the court, as wellness as her speed.  She did a great job of getting around the ball on defense and kept it in play within the boundaries of the court, making it so much easier for her team to convert it into an attack.  Larson has really progressed over the past few months and handles the high-level speed and difficulty on serve-receive consistently.  She will be a tremendous asset to the first contact of Northfield this upcoming fall.  
Remi Madison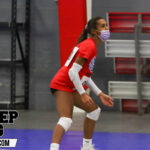 Remi Madison 5'9" | OH Grand Blanc | 2023 State MI – 2023 – 5'10 – Outside Hitter – Grand Blanc (MI) – MiElite 17 Mizuno 
Madison will head into the fall season as one of the top available outsides in the 2023 class.  At 5'10 she is really active and dynamic at the net.  Madison jumps really well and can take a hard swing or has a tricky well-timed rollshot that is really hard to defend.   
Samantha Kohl Samantha Kohl 5'9" | OH Kettle Moraine Lutheran | 2023 State WI – 2023 – 5'10 – Libero/Outside Hitter – Kettle Moraine Lutheran (WI) – Milwaukee Sting 17 White 
KML and Milwaukee Sting are always fundamentally sound programs that are highly competitive in their respective fields. Kohl is listed as an outside hitter but played as a libero at the Gauntlet.  She did a great job taking pace off of a hard driven attack.  Kohl's range on defense and volleyball IQ were really impressive.