The opening round of 15s pools is wrapping up at USAV Nationals, and we already have a lot to talk about.
Let's get the local crowd involved here. This is a quick look at Nebraska's top performers so far, including a couple of teams that will still be in championship contention on Wednesday. The action is just getting started, but let's get you briefed on where things stand for the Cornhusker State.
Another Show of Resilience from Nebraska ONE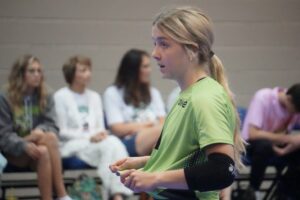 Nebraska ONE 15 Synergy is no stranger to emotional rollercoasters. We've seen this team face adversity before. Those themes popped up again in the opening round of 15 Open play, but 15 Synergy found a way to break into the next round once again.
GJNC kicked off with two three-set nailbiters for Nebraska ONE against WAVE and MAVS KC. After splitting those contests en route to a 1-1 record, 15 Synergy wrapped up Monday competition by dropping a match to the division's top overall seed, Arizona Storm.
I've seen how competitive and driven 15 Synergy is, and it might have been easy to feel down after a 1-2 start. However, it seemed that Tuesday came with a renewed focus for Nebraska ONE. The team promptly secured emphatic sweeps over Top Select and AJV to complete the opening round. Meanwhile, the entire pool became a huge mixing bowl of results as four teams vied for the second spot behind AZ Storm. The final numbers eventually came in, and Nebraska ONE successfully rebounded to finish runner-up in this stacked pool and advance to the next round in 15 Open.
We discussed 15 Synergy's ball control anchors leading up to this event, but here's a chance to give the frontcourt standouts their due credit. Lexi Hasselbalch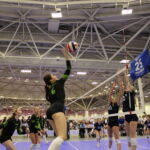 Lexi Hasselbalch 5'10" | MB Norris | 2025 State NE is back to her usual ways of taking swings from just about anywhere along the net. Defending her is never easy. Likewise, Mattie Kamery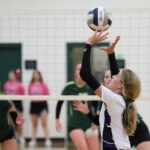 Mattie Kamery 5'10" | S Minden | 2025 State NE has really embraced her role on the left pin this year and has already taken another step forward at Nationals. On the other pin, Kendall Cose Kendall Cose 6'0" | RS Norris | 2025 State NE is swinging hard and puts up an intimidating wall next to middle blocker Natalie Wardlow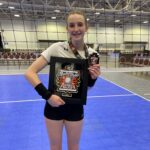 Natalie Wardlow 6'4" | MB Lincoln Southeast | 2025 State NE . This talented group of athletes is coming together for what should be an exciting second round of 15 Open matches.
Premier Perfection
After covering a team that just went through a wild ride in opening pools, it's only fitting that we transition to a squad that seemingly faced no difficulties at all.
Of course, this is a reference to Premier Nebraska 15 Gold's 5-0 start in the 15 National division, with all of those wins coming in sweep fashion. No other team in this division churned through two days of competition without a set loss, and only one other 15 National team carries an undefeated record into Wednesday (Upward Stars 15 Bing).
It's hard to pinpoint one specific reason for 15 Gold's success when the entire team is so balanced and smooth. In the backcourt, Rya Borer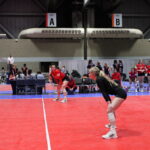 Rya Borer 5'1" | DS/L Norris | 2025 State NE remains a tremendous leader at the libero spot and takes a lot of passing burden off of her teammates. Speaking of serve receive, Isabel Campie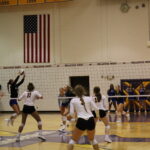 Isabel Campie 5'7" | S Omaha Marian | 2025 State NE has been showing off her versatility as a reliable passer in addition to her prep experience as a setter. This has also allowed Charlee Solomon Charlee Solomon 5'10" | S Papillion-La Vista South | 2025 State NE 's setting skills to shine in Indy, and I'm excited to follow this group in the next round of action.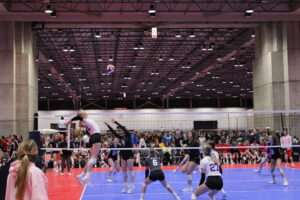 A Few Quick Hitters
Here are a few other quick notes from around the Nebraska landscape in the 15s age group.
Nebraska Elite 15 Matrix put together some impressive moments while playing against some of the top 15 Open teams in the tournament field. The connection between setter

Peyton Meyer

Peyton

Meyer

5'11" | S

Elkhorn North | 2025

State

NE

and pin hitter

Ashlyn Paymal

Ashlyn

Paymal

6'2" | RS

Omaha Burke | 2025

State

NE

is still as deadly as ever, and

Isabel Junior

Isabel

Junior

5'6" | DS/L

Elkhorn South | 2025

State

NE

has the backcourt locked down once again as the libero.
Premier Nebraska 15 Red notched a couple of Tuesday wins in the 15 Freedom division. Evelyn Stoakes has been a force in the middle for this team, and I've also been impressed with Karlyn Francis' defensive work throughout the tournament.
Though Premier Nebraska 15 Black still needs to play one Wednesday morning match to finish its initial 15 American pool, we can still talk about some standout performers here. Kinsley McMahon has been running a nice offense for this group, and she has a few good offensive options, too. Lydia Dix and

Lainey Bosiljevac

Lainey

Bosiljevac

6'0" | MB

Omaha Marian | 2025

State

NE

are two frontcourt players that are certainly accustomed to making a big impact with 15 Black.