We've reached the wild world of 15 Open. Our look at USAV Nationals favorites has visited 17 Open and 16 Open, and now it's time to dive into the 15s.
Of course, these "favorite" designations are far from absolute. It's very possible that a team not in this feature could emerge as a top contender in Indianapolis. That's part of the reason why these discussions on frontrunners were preceded by a look at some dark horse picks. GJNC is wide open this year, and that's especially true for 15 Open.
Still, these teams mentioned below managed to set themselves apart throughout the year. We'll see if they do it again with a championship on the line.
Arizona Storm 15 Thunder
This group is back in the championship hunt once again.
Anyone who took a brief peek at 14s competition last year knows that this Arizona Storm team has something special. That success has carried into 2022, with 15 Thunder recently claiming tournament titles at SLC and Red Rock.
The versatility on this roster is staggering. Teraya Sigler has been one of the most dynamic left-side attackers in the 2025 class, but that's not the only thing she can do. Recent events have proven that Sigler also has some nice hands that are capable of setting an offense. I had no idea.
Avery Lim is the more "traditional" setter on this team and has a good feel for tempo and location. It also helps that defensive specialists like Izabella Mahaffey and Olivia Lenz have been delivering dimes in serve receive.
If Sigler is not scoring at will, look out for 15 Thunder's vast collection of other frontcourt standouts. Devyn Wiest has brought her own high-flying style to the left pin and is hitting some incredible angles this year. Meanwhile, Kenna Cogill and Kiana Landers have delivered a deadly combination of stifling blocks and floor-denting kills in the middle. Good luck keying in on one player from 15 Thunder, because anyone can go off at any time.
A highly competitive 15s match is unfolding between Arizona Storm 15 Thunder and Munciana 15 Lorax.

Two major contenders in this field. #TCVolleyballNIT pic.twitter.com/dW6u2I9NTt

— Austin Kingsley (@KingsleyATK) February 19, 2022
1st Alliance 15 Gold
Another entry for 1st Alliance.
A lot of eyes have been on 17 Gold this year, but 15 Gold is also lurking as one of the top competitors in this division. This team's biggest moment came on one of the biggest stages, too, with 1st Alliance winning the 15s title at Triple Crown NIT. 15 Gold hasn't slowed down, either, and another championship at last weekend's Prep Dig Gauntlet shows that.
There's a lot of standout talent to watch here. Left-side hitter Sydney Buchanan has been teeing off on the outside this year, and she is joined at that position by the incredibly physical Abby Vander Wal.
The right pin gets plenty of production from both Hannah Kenny and LaDonna Trantham. 1st Alliance's ability to mix and match frontcourt lineups will be an interesting storyline to follow. In the ball control phase, though, Ava Young and MaTaia Lawson will keep the team's defense humming on the end line. This duo delivers some great first contacts to setter Kameron Blizniak, who runs a precise offense that always puts her hitters in favorable spots.
Abby VanderWal crushes match point to give @1stAllianceVBC 15 Gold an opening win! pic.twitter.com/fSiUE2OPRz

— Austin Kingsley (@KingsleyATK) February 19, 2022
Circle City 15 Purple
In this feature series, Circle City has claimed the trifecta. Its 17s, 16s, and now 15s have all been in the spotlight.
Like the other teams on this feature, 15 Purple has established quite a pedigree with its tournament results. After earning a 15 Open GJNC bid at MEQ, Circle City surged ahead and swiped a tournament championship at Windy City for good measure.
15 Purple boasts the kind of multi-faceted offense that you would expect from a Circle City team. Logan Bell Logan Bell 5'10" | OH Roncalli | 2025 State IN and Keira Lucas Keira Lucas 5'11" | RS Northview | 2025 State IN have been an outstanding tandem on the outside, with each of them making highlight plays in the backcourt, too. Speaking of that backcourt, Avery Freeman Avery Freeman 5'2" | DS/L Bloomington North | 2025 State IN and Eva Hurrle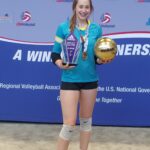 Eva Hurrle 5'8" | DS/L Roncalli | 2025 State IN are a couple of defenders that really stood out when I got a long look at Circle City at Show Me.
Isabelle Brown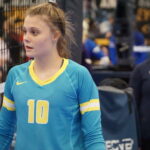 Isabelle Brown 5'9" | S Danville | 2025 State IN ties everything together at setter. She's particularly good at connecting with Reese Dunkle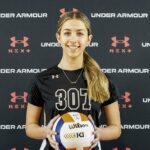 Reese Dunkle 6'2" | MB Center Grove | 2025 State IN and Aubrey Runyon Aubrey Runyon 5'9" | MB Franklin Community | 2025 State IN in the middle, and these two athletes will get plenty of reps on the quick in Indianapolis. With strengths at every position, we wouldn't be surprised to see 15 Purple defend its home turf this summer.
Quite a battle unfolding already between Circle City and Premier Nebraska on the 15s side.

Logan Bell Logan Bell 5'10" | OH Roncalli | 2025 State IN has been stout on the outside for 15 Purple. @CCVBCrecruit pic.twitter.com/zkOIQBqYrL

— Austin Kingsley (@KingsleyATK) April 9, 2022
TAV 15 Black
It's usually reasonable to expect at least one TAV squad to be a GJNC favorite in the Open division.
TAV 15 Black's trip out west for Red Rock turned out to be fruitful, as the team came out of the Las Vegas event with a bid. Of course, a collection of stout performances in the Lone Star State is also on TAV's resume heading into Indy.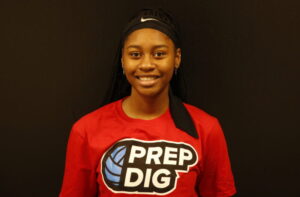 Uber-athletic attackers are nothing new in the TAV camp, and we've got plenty to talk about with 15 Black. The middle blocker spot is certainly stacked with talent, as Kennedy Washington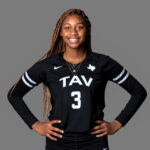 Kennedy Washington 6'0" | MB Red Oak | 2024 State TX and Taryn Morris Taryn Morris 6'2" | MB Denton | 2025 State TX have put their big-play potential on display this year.
You can expect to see a variety of lineups on the pins. Sydnee Peterson Sydnee Peterson 5'10" | RS Byron Nelson | 2025 State TX can play on either side and will also terminate on the 2-ball in the middle. The left-side hitter spot has also seen some increased production from Sophia Thornburg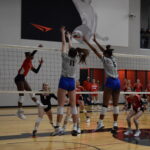 Sophia Thornburg 6'2" | OH Ursuline Academy | 2025 State TX and Audrey Jackson Audrey Jackson 5'11" | OH Flower Mound | 2025 State TX , with Thornburg playing a pivotal role in backcourt defense.
And, if you're a fan of aggressive setters, keep an eye on Sarah Pfiffner Sarah Pfiffner 5'11" | S Wakeland | 2025 State TX . TAV has no problem putting this setter in the frontcourt, and she will quickly establish herself as an offensive option. That attacking mindset might be a key to getting 15 Black back on top in Indy.
Houston Skyline 15 Royal
Let's complete the Texas two-step with Houston Skyline.
I remain astounded by the dominance we saw from 15 Royal at NLQ. The team didn't drop a set all tournament and instantly ascended to the top tier of 15 Open competitors.
The reasons for Skyline's NLQ run quickly became evident. This team has it all. To start, the pin trio of Ella Lewis Ella Lewis 5'10" | OH The Woodlands | 2025 State TX , Bailey Warren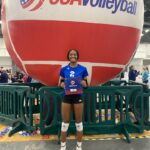 Bailey Warren 5'11" | OH Fulshear | 2025 State TX , and Taylor Porter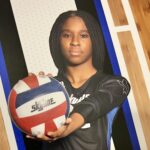 Taylor Porter 5'11" | OH Cypress Ranch | 2025 State TX is among the best we've seen in the 15s age group. Lewis and Warren will pass and play defense in addition to being outstanding left-side attackers, while Porter brought some unbelievable power to the right pin at NLQ.
Don't forget about the middle blockers, either. Rebekah Pfefferkorn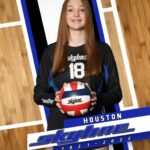 Rebekah Pfefferkorn 6'2" | MB Bridgeland | 2025 State TX can take over matches with her shutdown defense along the net. On the other side of the lineup, multi-sport standout Bayleigh Minor Bayleigh Minor 6'1" | MB Fort Bend Christian Academy | 2025 State TX has seen her stock rise tremendously in 2022. Skyline finds excellent ways to let Minor's athleticism flourish, and she will continue to develop into a must-watch middle blocker.
Texas surely has a lot of championship contenders in 15 Open, and Houston Skyline might just lead the charge.
Just another incredible performance for @HoustonSkyline 15 Royal.

Bound for the #NLQ 15 Open championship…and Nationals! pic.twitter.com/t1FtMwTcAD

— Austin Kingsley (@KingsleyATK) March 20, 2022