As the 2022 club season is coming to an end, we begin to look at the upcoming 2022 prep season.
The Class of 2023 has already established itself as one of the great classes in Michigan history.
A number of the members have already proven themselves as team leaders of their respective schools.
But, there will be a number that are taking on a bigger role for this prep season and it will be interesting to see how they respond to the challenge.
The Kentucky commit certainly has had a major role in leading Marian to back-to-back Division 1 state championships. As the setter, she's run as fast an offense as we've seen in the MHSAA. Her graduating hitters, led by 2021 Miss Volleyball winner Ava Brizard, would all credit Sarafa has raising their game. Now, the focus will definitely be on the incoming senior. With so much graduating talent at the net, this Marian team will be hers in 2022. A definite Miss Volleyball contender herself, I'm excited to see her rise up to the challenge once again.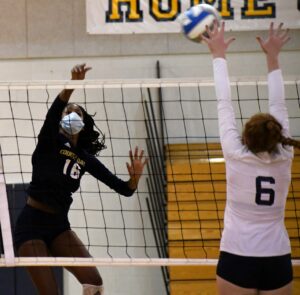 The Yellowjackets have had a wealth of talent at the net for years, but a number of them graduated last spring. Abraham is a Yale commit that sometimes got lost in the shuffle due to the overwhelming depth DCD had at the net. However, you still saw a lot of progression each month. Now, there's no denying that she's going to be a go-to piece for Country Day. The explosive and long middle has all the tools to dominate a game and keep Country Day in the mix in Division 2.
Similar to Abraham, Oswald has been playing alongside some really dynamic hitters. A knee injury also didn't do Oswald any favors, forcing her to miss the entire 2020 season. She bounced back nicely as a junior, but will be relied on heavily by the Red Arrows this fall. Oswald has the physical tools to be a great players, but will now need to dial up the intensity and leadership skills to keep Lowell in the D1 picture.
Anchor Bay was a competitive team in D1 last year, but graduated some key pieces, especially in the leadership department. Smith has a chance to really be the spark plug for the Tars in 2022. She will come into the season as one of the top defenders in the state and is coming off an outstanding club season. She can carry that momentum into the prep season and lead by example in the back court for Anchor Bay.
GRC has been one of the top programs in Division 2 for years. Coming off another trip to Battle Creek in 2021, the Eagles graduated their leading three hitters. It's unclear if GRC can just reload as it has done in the past, but Ritsema is certainly going to get an opportunity to step up. A promising middle, she's been waiting for her chance to be heavily featured for a few years. That time is now. Already an elite blocker, Ritsema has the opportunity to show how dominant a hitter she can be this fall.
Notre Dame Prep has set the bar for elite back row play in Michigan over recent years. Last year, Josie Bloom played the libero position as well as anyone in the state while leading the Irish to a D2 state title. Now, Allison Berent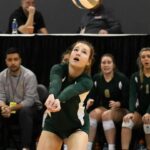 Allison Berent 5'7" | DS/L Notre Dame Prep | 2023 State MI gets her chance to wear the libero jersey and prove just how talented she is. The Alabama commit will have a lot of weight to carry early on for NDP, as the Irish graduated one of the best classes in the state. Strong defense can make up for a lot of new starters, and I'm sure Berent will be eager to keep NDP in the title hunt as a senior.