What better way to celebrate the end of the first block of the USAV National tournament and kick off the second block than to host a showcase of some of the best up and coming talent from all across the country!
In a collaboration between USA volleyball and Prep Dig, we were able to create one awesome event full of some top notch talents, coaches and scouts to play some volleyball and show off some skills. The best part too, there's a whole other session after this one to kick off the final block of nationals on June 30th too!
But for now, let's take a look at who impressed at the USAV x Prep Dig showcase, Session I.
Alexa Hernandez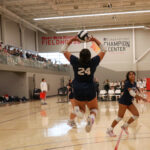 Alexa Hernandez 5'7" | S Green Bay Southwest | 2025 State WI – 5'7 S – FC Elite
One of the many standout setters at this event, Alexa Hernandez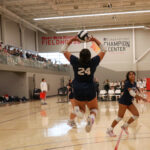 Alexa Hernandez 5'7" | S Green Bay Southwest | 2025 State WI has no problem with spreading the ball around and doing so quite deceptively. Her approach and delivery to the ball is very smooth and a beauty to watch. Hernandez was able to click with the many, many hitters she set through the night.
Lucy Lowe – 5'9 OPP – Premier NE
A little undersized on the right side, but Lucy Lowe can make up the loss with a big hop and huge range of shots. Lowe has a big pop to her vertical and a hammer right arm on the right side. She can move the ball around the court and to great effect.
Zahara Johnson – 6'0 MB – Excel
It's one thing to just be naturally a big blocker but it's another thing to have the IQ and read to really cause some damage. Zahara Johnson is the perfect combination of the two. Especially when going against so many different setters and attackers, Johnson showed off her ability to adjust on the fly and shut down.
Kennedy Pike – 5'10 MB – Katy United
Quick off the ground and floating in the air, that was seen many times from Kennedy Pike during the showcase. Pike is impressive with her hang time and she knows how to use it for the best. Creating a lot of damage from her swing while floating in the air.
Durham Harden – 6'1 OH – A5
A5 knows how to develop big, physical attackers, which when watching this player and seeing where she came from, it was a no brainer. Durham Harden is a huge presence on the court, delivering some thunderous swings on both the left and right pin throughout the evening. 
Madison Tripp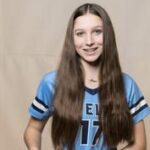 Madison Tripp 5'8" | S Kaukauna | 2025 State WI – 5'8 S – FC Elite
Another FC Elite setter on this list and it really gets you to see how good FC Elite has it with their depth of setters. Madison Tripp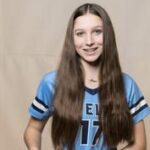 Madison Tripp 5'8" | S Kaukauna | 2025 State WI is a very agile, adjustable setter like her counterpart. She's got a quick and smooth approach and release to the ball and seemed to connect fast with her revolving door of hitters throughout the evening.
Bella Babbitt – 5'8 OH – Amarillo Extreme Blackout
This is the first I have heard of this club, but because of Bella Babbitt, I will be keeping my eye out for them for a few years to come. Babbitt may be 5'8, but she plays like she's 6'8. She takes a big, powerful approach and gets the most out of it, delivering some hammers with range.
Hannah Beauford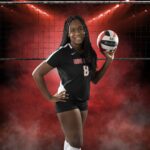 Hannah Beauford 5'11" | S Prosper | 2025 State TX – 5'11 OPP/S – Drive Nation
Hannah Beuaford first caught my eye via her attacking abilities. Man, she can get on top of the ball and blast away. I turn my head, come back, and she's setting. Not just setting, but setting some serious butter. She's truly one of the most versatile players of the group, with a huge upside in either position. A deadly weapon for Drive Nation for years to come.
Anna Arceneaux – 5'6 L – San Antonio Juniors
I liked this libero for many reasons, a lot to do with her play, of course. But it was really her infectious personality that got me. A constant smile and up-beat personality, even after she has just been lit up by a big swing. Anna Arceneaux is a go-getter on the court and an A1 leader on the court.
Molly Shafer – 6'0 OH – Club Ignit Select
Watch out below, here comes Molly Shafer. Another big leaper with a lot of range with her shots, Shafer was displaying a lot of veteran play despite her youth. She was named a top performer from the showcase and for good reason.